SWS Vienna ART 2016, HOFBURG Congress Center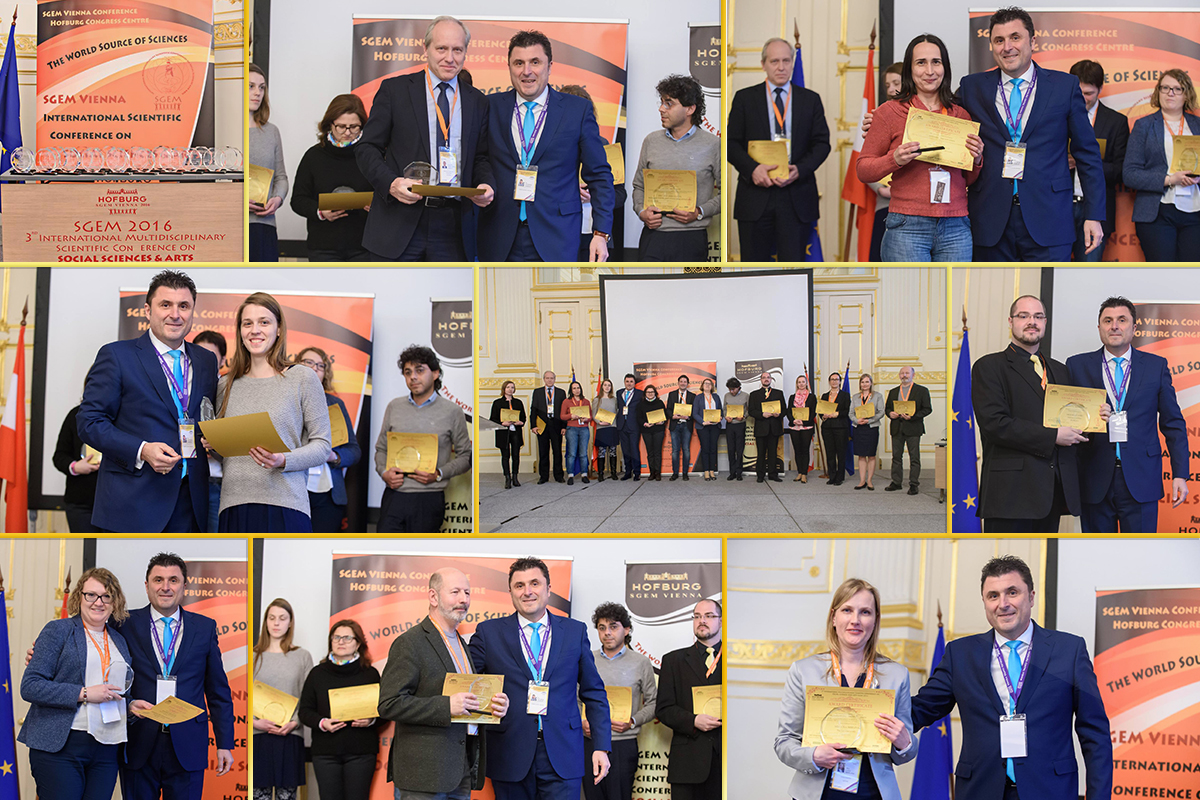 Section Political Sciences
Assist. Prof. Martin Chovancik, Masaryk University, Czech Republic / IRAN COERCION SUCCESS AND THE USE OF NON-KINETIC TOOLS TO SUPPORT SANCTIONS AND PREVENT MILITARY ESCALATION
Mrs Liga Mirlina, Turiba University, Latvia / TRANSFORMATION OF RELATIONS BETWEEN PUBLIC ADMINISTRATION AND SECTOR OF NON-GOVERNMENTAL ORGANIZATIONS IN LATVIA: TRENDS AND CHALLENGES
Assoc. Prof. Lucia Mokra, Comenius University Bratislava, Slovakia / THE ROLE OF NATIONAL HUMAN RIGHTS PROTECTION INSTITUTIONS AND EFFECTIVE MODEL OF COOPERATION
Mr Robert Dobo, University of Pecs, Hungary / ICE-KRIM: THE NEW COLD WAR
Assoc. Prof. Zdenek Kriz, Masaryk University, Czech Republic / TREATY ON CONVENTIONAL ARMED FORCES IN EUROPE AND ITS IMPORTANCE IN THE CURRENT INTERNATIONAL SECURITY ENVIRONMENT
Section History
Assist. Prof. Gregor Pobezin, University of Primorska, Koper, Slovenia / PAST OF ANOTHER KIND – DOXOGRAPHERS, MYTHOGRAPHERS, LOGOGRAPHERS AND THE LOT
Assoc. Prof. Andrea Ragusa, Interuniversity Centre for History of Social Change and Innovation- University of Siena, Italy / CULTURAL HERITAGE: A BRIDGE BETWEEN WESTERN AND EASTERN EUROPE. POLITICS FOR TUTELAGE AND VALORIZATION IN A COMPARATIVE APPROACH
PhD Heruday-Kielczewska Magdalena, Adam Mickiewicz University, Poland / MEMORY OF THEATRES – INSIDE THE ARCHIVES
Section Philosophy
Prof. Marta de Grandi, Erasmo da Rotterdam, Italy / MAN WITHOUT FOUNDATION IN PIETRO PIOVANI
Prof. Ilya Kasavin, Institute of Philosophy, Russian Academy of Sciences, Russia / PHILOSOPHY OF SCIENCE MEETS POLITICAL PHILOSOPHY: A NEW CONVERGENCE
PhD Alina Gavrilut, Alexandru Ioan Cuza University, Romania / THE MATHEMATICS OF AXIOMATIC SYSTEMS IN THE COGNITIVE PERCEPTION OF REALITY
Assist. Prof. Andrejs Cekuls, University of Latvia, Latvia / ASPECTS OF ETHICS AND SOCIAL RESPONSIBILITY IN COMPETITIVE ENVIRONMENT: RESEARCH IN LATVIA
Section Architecture and Design
Dr. Arch. Andrea Sfogliarini, Politecnico di Milano, Italy / METHODS AND TOOLS FOR THE PROJECT OF ADAPTIVE REUSE OF VACANT OFFICE BUILDINGS
PhD Flaviu-Cristian Leontiuc, Polytechnic University Timisoara, Romania / SUSTAINABILITY OF THE INTERVENTION FOR THE HYGROTHERMAL REHABILITATION OF A HISTORICAL BUILDING USING AN INNER HEAT INSULATION WITH AIRED LAYER
Assist. Prof. Levente Szabo, Budapest University of Technology and Economics, Hungary / REDEFINITION OF THE HOUSE-ARCHETYPE. ONE OF THE TYPICAL ARCHITECTURAL STRATEGIES AFTER THE PERIOD OF REGIONALISM IN HUNGARY TODAY
PhD Maria Elisabetta Ruggiero, Universitа degli Studi di Genova, Italy / DRAWING AS A METHOD FOR THE CREATING PROCESS OF NAVAL INTERIOR DESIGN
PhD Magdalena Rembeza, Gdansk University of Technology, Poland / SHAPING PLACES BY ART. THE ROLE OF CREATIVE PLACEMAKING IN PHILADELPHIA
Mrs Jonna Majgaard Krarup, KADK The Royal Academy of Fine Arts, School of Architecture, Denmark / CLIMATE CHANGE ADAPTATION PLANNING IN REGIONAL CITY-LANDSCAPES.
Section Performing and Visual Arts
Assist. Prof. Aigars Ceplitis, RISEBA University, Latvia / RHIZOMATIC NARRATOLOGY IN 360 DEGREE SPHERICAL CINEMATOGRAPHY
Prof Jacqueline Holzer, Zurich University of the Arts ZHdK, Switzerland / LEADERSHIP IN PERFORMATIVE ARTS
Prof. Edson Zampronha, University of Oviedo, Spain / EXTRACTING PROGRESSIONS OF COMPLEX HARMONIES FROM CONCRETE SOUND OBJECTS
Section History of Arts
Prof. DSc. Konstantin Zenkin, Moscow P.I.Tchaikovsky Conservatory, Russia / WHAT IS NATIONALISM IN MUSIC AND HOW CAN IT EXIST?
---